I finished this book before Christmas but am only now getting to write it about it for a couple of reasons – time for one – but more importantly, I was suffering from the biggest book hangover I think I've suffered. Let's jump right into the synopsis so I ca talk about the book!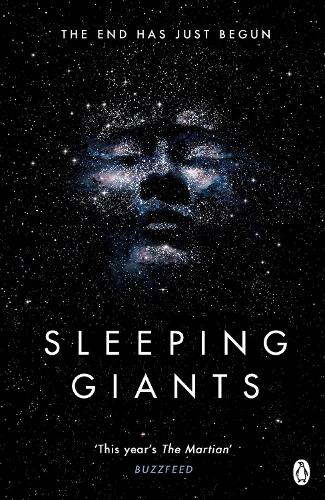 Synopsis:
What happens when you make a discovery that changes everything?
Deadwood, USA. A girl sneaks out just before dark to ride her new bike. Suddenly, the ground disappears beneath her. Waking up at the bottom of a deep pit, she sees an emergency rescue team above her. The people looking down see something far stranger…
"We always look forward. We never look back."
That girl grows up to be Dr. Rose Franklyn, a brilliant scientist and the leading world expert on what she discovered. An enormous, ornate hand made of an exceptionally rare metal, which predates all human civilisation on the continent.
"But this thing … it's different. It challenges us. It rewrites history."
An object whose origins and purpose are perhaps the greatest mystery humanity has ever faced. Solving the secret of where it came from – and how many more parts may be out there – could change life as we know it.
"It dares us to question what we know about ourselves."
But what if we were meant to find it? And what happens when this vast, global puzzle is complete…?
"About everything."
—
I absolutely loved this book. From the format – which was completely different to any book I'd read before as it was listed in an interview/interviewee type style with occasional diary entries to help flesh out the story a little. The plot itself, which on the surface feels a little far-fetched gets completely washed away with how well the book is executed.
Once upon a time in the world of Rose Franklyn she fell down a hole and discovered a giant robot hand. When she grows up she's become a doctor, a scientist investigating the robot hand, and theorising that there are more pieces out there. And there are. So she gathered them up and assembled them. Which the help of a few others they stand the robot up, and make it work and the rest of the world has a hissy fit.
What I really liked was not just how the story was told – Rose was the main character, but it's certainly not told from her POV. Instead, we're told the story from a nameless character presenting his notes on the subjects, and actually, it sort of makes him the main character as his story telling introduces us to people like the American Secretary of State, of Defence, the President, important people from around the world. He's working with a lot of people to work on this project, and when it goes wrong, he changes just who he works with – including the countries and conglomerates – to ensure he gets his way from beginning to end. Even if it will mean treason.
I think the only downside to the story telling in this was though was that it was hard to emotionally connect to one character. There are a couple of things that highlight this point for me. When the characters are working together to get the robot standing and walking, there's some intense jealously going on between key characters, which leads to a deliberate attempt on someone life and leaving one of the characters to be permanently damaged from it. [I'm trying to be descriptive and vague here, I don't want to spoil it for anyone!]. After this event happened, which is pretty key to the plot, I was a little like 'oh, okay' rather than impact-fully emotional about it.
Another example is when an accident happens as a result of an experiment with the robot. A key character is affected in a very specific way, which left me feeling a little 'wtf?' but otherwise…. 'oh, okay'. I'm not quite sure how to fully describe it. The connections are definitely there to the characters, but if it was 1st or 3rd person, it would be a stronger emotional bond. As it stands we witness all these characters second hand through the narrators contact with them, rather than first hand. That's probably a better way to describe it.
This was such a good book though, and I've had to give myself some time before I read the next one. It's a case of science fiction as it's best, I think, and I look forward to where the plot is going.
I have actually finished another book between Sleeping Giants and now, but like I said – book hungover and didn't really know how to talk about this one. Not that I've done a great job mind.
I'll write about the next one over the next few days to catch me up.
Before I go I'd like to mention the GoodReads challenge. I was undecided whether I was going to participate in it this year for the main reason that I've never actually completed it. This is because I have more than one hobby, so my targets have come down over the years and I've still not achieved. This year, I am aiming for just 15 books. That's all. I know people out there read so many, but 15 for me I think will be more valuable than chasing a target I'm not going to achieve.
That's all for now folks!
Happy reading,
Kialtho